The Making of Quiet Things, the new album by The Number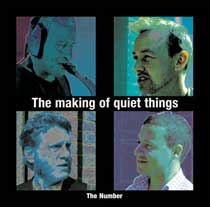 The Making of Quiet Things by Gary Curson and The Number may change the way recording will be done in the future. A Slam Productions release, this new album is a milestone for recorded free improv jazz.
The Making of Quiet Things is the product of a collaboration between Gary Curson and producer Justin Paterson, senior lecturer at the London College of Music. The album was recorded at Vestry Hall Studios at the London College of Music as part of Paterson's research.
Technical challenges
Paterson asked the musicians to perform free improv whilst separated, unable to communicate directly with each other, without rehearsing, in one take. Paterson's goal was the complete separation of sound for each instrument for a second spinoff album using the tracks from this recording session to produce a new, synthesised improvisational work. This environment was extremely challenging for the musicians. The recording and producing of this album itself was a technical feat.
Some problems with the recording session, particularly pressures of time and budget, meant complete separation was not achieved. Paterson attempted to remove the microphone spillage on the tracks and devised an algorithm and built software to do this: The "One-T". The results were presented it at the 2nd Art of Record Production (ARP) conference in Edinburgh last September to extremely warm reception from the academic and industrial community. Further development of this "One-T" project is continuing. Paterson hopes to complete the second album within the next year or two.
Album Credits